Amazing Spider-Man (1998 2nd Series) #531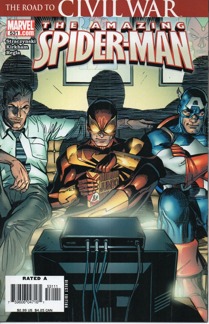 Pris:
99 kr
Inkl. 6% Moms
Antal:
Finns i lager
Grade
Betyg
: Very Fine eller bättre
Från JUN 2006
Written by J. MICHAEL STRACZYNSKI Penciled by TYLER KIRKAN Cover by RON GARNEY "MR. PARKER GOES TO WASHINGTON" Peter Parker's trip to Washington with his boss Tony Stark has been a real doozy. As if suffering politicians who want to impose all sort of new rules on guys like him isn't enough, he's also got to deal with the monstrous might of the Titanium Man! Good thing for Spidey, his new costume's got some very special features...Get ready, True Believer. The clouds are quickly building on the horizon for a storm that will shake the entire Marvel Universe next month! Part 3 (of 3). 32 PGS./Rated T+ SUGGESTED FOR TEENS AND UP
--------------------------------------------------------------------
Betyget är satt enligt vår uppfattning, utan att vara professionella betygsättare.
Vi utgår dock ifrån The Overstreet Pricing Guide.
Produktbilden är en scannad bild/foto av den faktiska tidningen som du beställer så studera den gärna noggrant.
Ett köp betyder att du accepterar vårt betyg.
Mint = Perfekt skick
Near Mint = Nyskick
Very Fine = Mycket gott skick
Fine = Gott skick
Very Good = Godtagbart skick
Good = Sämre skick
Fair = Dåligt skick
Poor = Mycket dåligt skick