Amazing Spider-Man (1963 1st Series) #275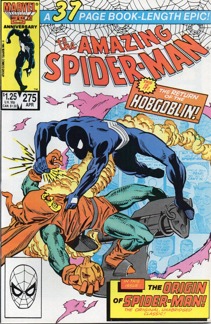 Pris:
119 kr
Inkl. 6% Moms
Antal:
Finns i lager
Grade: Very Fine or Better
From April 1986
"The Choice and the Challenge!" Part 1 of 2. Double-sized issue. Script by Tom DeFalco. Pencils by Ron Frenz. Inks by Joe Rubinstein. Cover by Ron Frenz and Joe Rubinstein. Affairs of the heart take center stage for Peter, Mary Jane, Betty, Ned, Flash, and Sha Shan as the long-time group of friends
deal
with a variety of relationship problems! But amid the soap opera-style drama, there is a super-villain on the prowl...the Hobgoblin! Armed with a new weapons system, the goblin circles the Port Authority Bus Terminal to draw out the web-slinger! Surprisingly the Hobgoblin's plan works! And then so does his new weapon! Is the goblin finally going to put Spidey down for the count? Cameo appearances by the Kingpin, Arranger, and Rose. Flashback cameos by the Green Goblin, Gwen Stacy, and the Sin-Eater. (Notes: Woven into the story are 11 (reprinted) pages of Spider-Man's origin from Amazing Fantasy 15. Script by Stan Lee. Art by Steve Ditko. On the cover the web-slinger and Hobgoblin break through a page from Amazing Fantasy 15. This issue was reprinted in Marvel Tales 283.)
--------------------------------------------------------------------
The grade is set in our opinion, without being professional graders.
We do however abide by The Overstreet Grading Scale.
The product picture is a scanned picture/photo of one of the actual comics.
The copies are Very Fine or better and they all look pretty much the same so please study the picture carefully.
A purchase means you accept our grade.
Gem Mint = 10.0
Mint = 9.9
Near Mint = 9.4
Very Fine = 8.0
Fine = 6.0
Very Good = 4.0
Good = 2.0
Fair = 1.0
Poor = 0.5