Amazing Spider-Man (1998 2nd Series) #532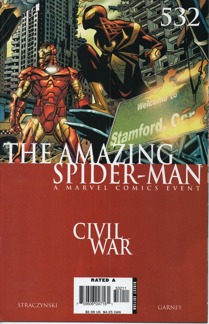 Pris:
99 kr
Inkl. 6% Moms
Antal:
Finns i lager
Grade/Betyg: Very Fine eller bättre
Från Jul 2006 1982
1st printing. Written by J. Michael Straczynski. Pencils & Cover by Ron Garney. "THE WAR AT HOME" Part 1 (of 6) CIVIL WAR TIE-IN. After rushing to the aftermath of the Riverbank Massacre to offer aid to its victims, Peter travels with Tony Stark to Washington DC and the White House, where the enactment of the Super Hero
Registration
Act appears imminent. As the Marvel Universe braces for the implications of legislation that will forever change the societal status of super heroes, Peter will have to make a very important personal decision -- one that just might be the most important decision of his life 32 PGS
--------------------------------------------------------------------
Betyget är satt enligt vår uppfattning, utan att vara professionella betygsättare.
Vi utgår dock ifrån The Overstreet Pricing Guide.
Produktbilden är en scannad bild/foto av den faktiska tidningen som du beställer så studera den gärna noggrant.
Ett köp betyder att du accepterar vårt
betyg
.
Mint = Perfekt skick
Near Mint = Nyskick
Very Fine = Mycket gott skick
Fine = Gott skick
Very Good = Godtagbart skick
Good = Sämre skick
Fair = Dåligt skick
Poor = Mycket dåligt skick