Avengers (1963 1st Series) #133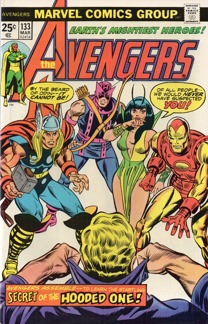 Pris:
69 kr
Inkl. 6% Moms
Antal:
Finns i lager
Grade
Betyg
: Very Fine eller bättre
Från Mars 1975
"Yesterday and Beyond…" Script by Steve Englehart. Art by Sal Buscema (layouts) and Joe Staton (finishes). Cover by Gil Kane, Dave Cockrum, and Frank Giacoia. The Celestial Madonna saga continues after the Avengers narrowly defeated Kang in Giant-Size Avengers 3. As a
reward
for thwarting the Conqueror, Immortus sends Mantis and the Vision on separate journeys through time to discover their respective origins. The Vision's path of discovery starts in the laboratory of Dr. Phineas T. Horton during the early days of World War II. While Mantis' history lesson begins eons ago on Hala, the home planet of the Kree. Meanwhile inside Avengers Mansion, the Scarlet Witch trains with Agatha Harkness to hone her mutant powers. Origin of the Vision. Origin of Mantis. Cameo appearances by Moondragon, Libra, and the Cotati. Flashback cameos by the original Human Torch, the Sentinels, Skrullls, and Kree. Avengers Lineup: Iron Man, Hawkeye, Mantis, Scarlet Witch, Thor, and the Vision. (Note: The first subplot connecting the Vision to the original Human Torch was introduced in Avengers 93.)
--------------------------------------------------------------------
Betyget är satt enligt vår uppfattning, utan att vara professionella betygsättare.
Vi utgår dock ifrån The Overstreet Pricing Guide.
Produktbilden är en scannad bild/foto av den faktiska tidningen som du beställer så studera den gärna noggrant.
Ett köp betyder att du accepterar vårt betyg.
Mint = Perfekt skick
Near Mint = Nyskick
Very Fine = Mycket gott skick
Fine = Gott skick
Very Good = Godtagbart skick
Good = Sämre skick
Fair = Dåligt skick
Poor = Mycket dåligt skick