Avengers (1963 1st Series) #148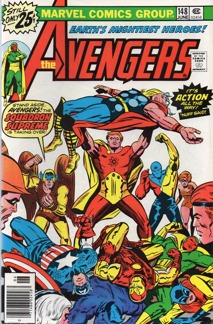 Pris:
49 kr
Inkl. 6% Moms
Antal:
Finns i lager
Grade
Betyg
: Very Fine eller bättre
Från Juni 1976
"20,000 Leagues Under Justice!" Part 6 of 7. Script by Steve Englehart. Pencils by George Perez. Inks by Sam Grainger. Cover by Jack Kirby and Mike Esposito. The Avengers' battles against the Squadron Supreme continue in the streets of Other-Earth! On the undercard: Hellcat and the Beast vs. Tom Thumb, Amphibion, and Cap'n Hawk! And the main event: Captain America and Iron Man vs. Doctor Spectrum and the Whizzer!
Wow
, a sensational action issue! Can Earth's Mightiest Heroes finally defeat the Squadron Supreme and find a way back home? Cameo appearances by Thor, Moondragon, the Wasp, and Yellowjacket. (Notes: Although depicted on the cover, Thor is not with the Avengers on the Squadron's world. The Squadron's Earth was later designated Earth-712. The Squadron Supreme's next adventures take place in Thor 280 and Defenders 112-114. The letters page includes letters from comics historian Peter Sanderson and comics writer Mary Jo Duffy, respectively. A 30-cent cover price variant exists for this issue.)
--------------------------------------------------------------------
Betyget är satt enligt vår uppfattning, utan att vara professionella betygsättare.
Vi utgår dock ifrån The Overstreet Pricing Guide.
Produktbilden är en scannad bild/foto av den faktiska tidningen som du beställer så studera den gärna noggrant.
Ett köp betyder att du accepterar vårt betyg.
Mint = Perfekt skick
Near Mint = Nyskick
Very Fine = Mycket gott skick
Fine = Gott skick
Very Good = Godtagbart skick
Good = Sämre skick
Fair = Dåligt skick
Poor = Mycket dåligt skick