Captain America (1968 1st Series) #130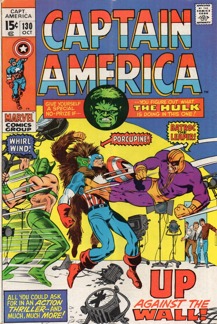 Pris:
75 kr
Inkl. 6% Moms
Antal:
Finns i lager
Grade
Betyg
: Very Good eller bättre
Från Oktober 1970
Cover pencils by Marie Severin, inks by Joe Sinnott. Batroc, Whirlwind, and Porcupine team up against Captain America in "Up Against the Wall," script by Stan Lee, pencils by Gene Colan, inks by Dick Ayers; Captain America stumbles onto the Hood's plan to convince students to riot at a Midwestern university; After rescuing a dean from said riot, Cap is asked to make public service announcement condemning the students; While he mentions that violence shouldn't be the answer, Cap mostly condemns the dean; The Hood hires Batroc's Brigade to attack Cap. Cameos by the Hulk and Peter Parker (Spider-Man). 36 pgs., full color.
--------------------------------------------------------------------
Betyget är satt enligt vår uppfattning, utan att vara professionella betygsättare.
Vi utgår dock ifrån The Overstreet Pricing Guide.
Produktbilden är en scannad bild/foto av den faktiska tidningen som du beställer så studera den gärna noggrant.
Ett köp betyder att du accepterar vårt betyg.
Mint = Perfekt skick
Near Mint = Nyskick
Very Fine = Mycket gott skick
Fine = Gott skick
Very Good = Godtagbart skick
Good = Sämre skick
Fair = Dåligt skick
Poor = Mycket dåligt skick