Captain America (1968 1st Series) #135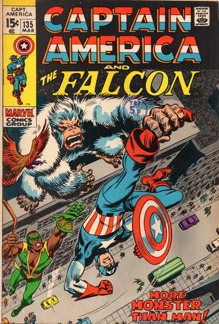 Pris:
59 kr
Inkl. 6% Moms
Antal:
Finns i lager
Grade
Betyg
: Very Good eller bättre
Från Mars 1971
Cover by John Romita. "More Monster Than Man!", script by Stan Lee, pencils by Gene Colan, inks by Tom Palmer (Palmer is generally acknowledged as Colan's best inker, but this is his only work with Colan on Cap); Captain America takes Falcon to SHIELD headquarters to meet Nick Fury; Falcon battles Dum-Dum Dugan in the gym; Cap tries to talk to Sharon, but she brushes him off, citing the new Project Earth-Dig; Cap and the Falcon battle Dr. Erik Gorbo, a SHIELD scientist who has gone on a crime spree after turning himself into a monster ape. Missive from letter hack Guy Lilliam III. 36 pgs., full color.
Stämpel på framsidan. Se bilder.
--------------------------------------------------------------------
Betyget är satt enligt vår uppfattning, utan att vara professionella betygsättare.
Vi utgår dock ifrån The Overstreet Pricing Guide.
Produktbilden är en scannad bild/foto av den faktiska tidningen som du beställer så studera den gärna noggrant.
Ett köp betyder att du accepterar vårt betyg.
Mint = Perfekt skick
Near Mint = Nyskick
Very Fine = Mycket gott skick
Fine = Gott skick
Very Good = Godtagbart skick
Good = Sämre skick
Fair = Dåligt skick
Poor = Mycket dåligt skick